Posted by Guy Michael Smith on April 22, 2019
Diamonds are the King of Gemstones.
Their #1 disadvantage is Diamond's Cost - They are very Expensive especially as a Large Solitaire.
#2 is you will spend a small fortune for a non-Investment Diamond.
This is absolutely correct... 98% of Diamonds are non Appreciating Assets. Singular diamonds that have a high Carat weight in the double digits, are of a suitable Color and Clarity and have an Excellent, Ideal, or Triple Zero Cut may be considered as a Long Term Investment.

For a vast majority of the population, Diamonds not meeting those Standards, would be simply an "Investment" in Beauty and Glamour. Does it make sense to spend that much money on just one Diamond?
#3 Have you ever tried to sell a Diamond? The resale market for Diamonds are Limited to Private sale and Pawn Shops.
Diamond lovers need not despair, for there is now a truly Opulent, Believable Looking and Realistic option to the Mined or Lab Grown Diamond Solitaire... and, it is not Moissanite, Cubic Zirconia, White Sapphire, or White Topaz... it is the BENZGEM Diamond alternative! Benzgem is Guaranteed to Look real or your money Back!
The eminently credible Benzgem; Designed, Hand Cut, and Polished as Real Diamonds are.
★★★★★ ★★★★★ ★★★★★
Just as in 1885 Karl Friedrich Benz* Invented the first true Automobile, I have created the first true Diamond Alternative. Second only to Diamond, Benzgem is the Epitome of a World Class Diamond; Benzgem is physically Believable and Realistic as a Diamond.
Benzgem's color is that of a Real Diamond: G-H-I-J Near Colorless White Color. Benzgem is Exclusively Set in Jewellery settings made for genuine Diamonds, furthermore, Benzgem will match and coordinate with the Genuine Diamonds you already own. with Benzgem... You will Feel and Experience the Opulence of wearing a Genuine, mined "Rock"
*Mercedes Benz is a registered Trademark of Daimler AG
Photo of a Very Large 5 carat Round Moissanite. Notice the Overall Blurred appearance of this stone. This is Double Refraction in action. Diamonds and Benzgem are both Singly Refractive.
the Eminently Credible Benzgem; most believable Diamond Alternative...
Designed & Engineered to Look real...
You will Feel and Experience the Opulence of wearing a Genuine, Mined
"Diamond"
• Using the Photo as a reference you have Colorless Rough to the Left, Benzgem Near Colorless White Rough in the Center and Benzgem Faint Yellow White Rough to the Right.
• The Left Rough is the Typical Body color of most, if not ALL, Colorless Imitation Diamonds.
• All Genuine Diamonds, even the most colorless, rarest, type IIa diamonds, are not completely colorless. These rarefied diamonds still have a small percentage of yellow, brown or gray found within them.
• It is this lack of Body color as exhibited in the Colorless Rough shown on the Left, that is the First indication that Someone's "Diamond" is not a Genuine Diamond. The other side effect of this "Colorless Rough" is the unnatural, artificial blue Glow or blue Fluorescence when viewed in the Sunshine or under Fluorescent Lighting.
• Our Signature G-H-I-J Color Rough, Exclusive to Us, is the Center Rough, Equivalent to GIA's Near Colorless White. The first step in being a Convincing Alternative to a Genuine Diamond is to have the same color rough as a Genuine Diamond. Our Signature Rough is a Genuine Diamond White color without being too White.
• Near Colorless Benzgem Jewels do not Fluoresce; they look the same in the Sunlight, Incandescent lighting and Fluorescent lighting.
• This G-H-I-J color range provides the Slightest Contrast between the Body Color of the Benzgem Solitaire Jewel and the Natural round Diamond Semi-mount.
• Benzgem never tries to look like you've necessarily spent a Million dollars. It is rather content to be Beautiful and Wearable. Benzgem is eminently Credible and Realistic in it's G-H, I, and J colors.
• GuyDesign® - Classic Diamond Halo Solitaire Style 145321
The Practical Benefits of owning a Benzgem:
You will Feel and Experience the Opulence of owning your own, as large as you like "Dream Diamond".

Benzgem Jewels are... Much less expensive than a Mined Diamond Solitaire.

Benzgem has at 8.5 Hardness rating... the Same Hardness as an Alexandrite, Harder than an Emerald, Stronger than Hardened Steel and Harder than the entire list of Semi-Precious natural Gems.

Each Jewel is handled in the same fashion as its Genuine Counterpart resulting in an eminently credible Benzgem; Designed, Hand Cut, and Polished as Real Diamonds are.

Because of it's Diamond Qualities, Color, and lack of Fluorescence [the artificial looking blue glow that is the ultimate revelation that Someone's "Diamond" is a zirconia / cz], Benzgem will coordinate and match with GIA graded, G-H color, I color and J color Diamond Jewellery you already own.

Benzgem's color is that of a Real Diamond, rated in the range of G-H-I-J, near colorless.

Benzgem's color runs through the stone, it is not a surface Treatment, it is true color.

Benzgem... Handles light, more like Diamond, better than

All

other imitations on the market.

Benzgem sparkles like a Diamond, Benzgem's Luster is Adamantine like a Diamond, Benzgem's structure is Cubic like a Diamond, and Benzgem is Singly Refractive like a Diamond. Moissanite, silicon carbide, on the other hand, has a Blurred, extremely colorful brilliance due to its Double Refraction. This double refraction along with the moissanite's cut pattern, makes Moissanite look more like a colorful crystal, Disco ball and less like a Diamond.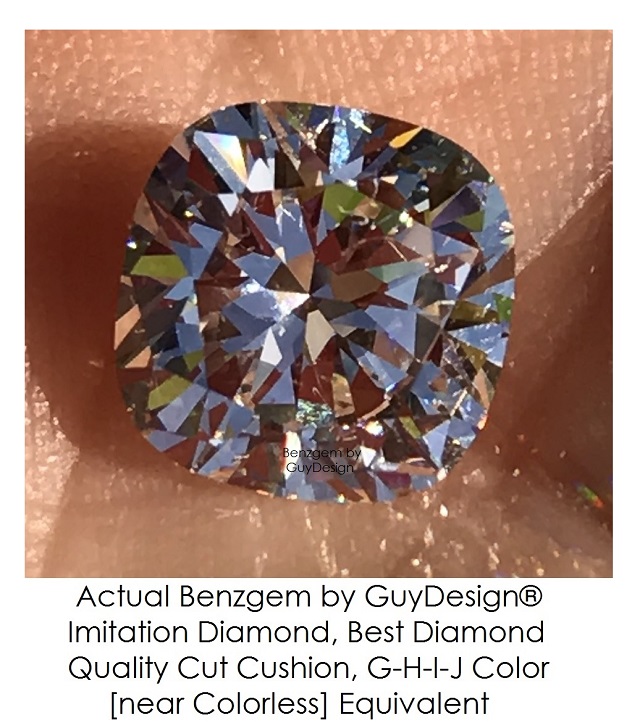 Crisp, Clean, well-defined Facets on The Singly Refractive, Natural Diamond G-H-I-J color Benzgem by GuyDesign® 3.21 Carat Cushion Cut. Benzgem is simply, the most Natural looking, thus the Believable and Convincing Alternative to Diamond.
Benzgems are Set in Jewelry settings for Genuine, Mined Diamonds.

Benzgem bespoke jewelry features a Genuine Mined diamond Semi-Mount set with G-H Color, VS Clarity, Precision Cut Diamonds or Hearts & Arrows F+ Color, VS Clarity Diamonds.

Essentially when You choose a Benzgem Alternative Solitaire, You are making a choice to have the Most physically Believable and Realistic alternative to Diamond available anywhere.
★★★★★ ★★★★★ ★★★★★